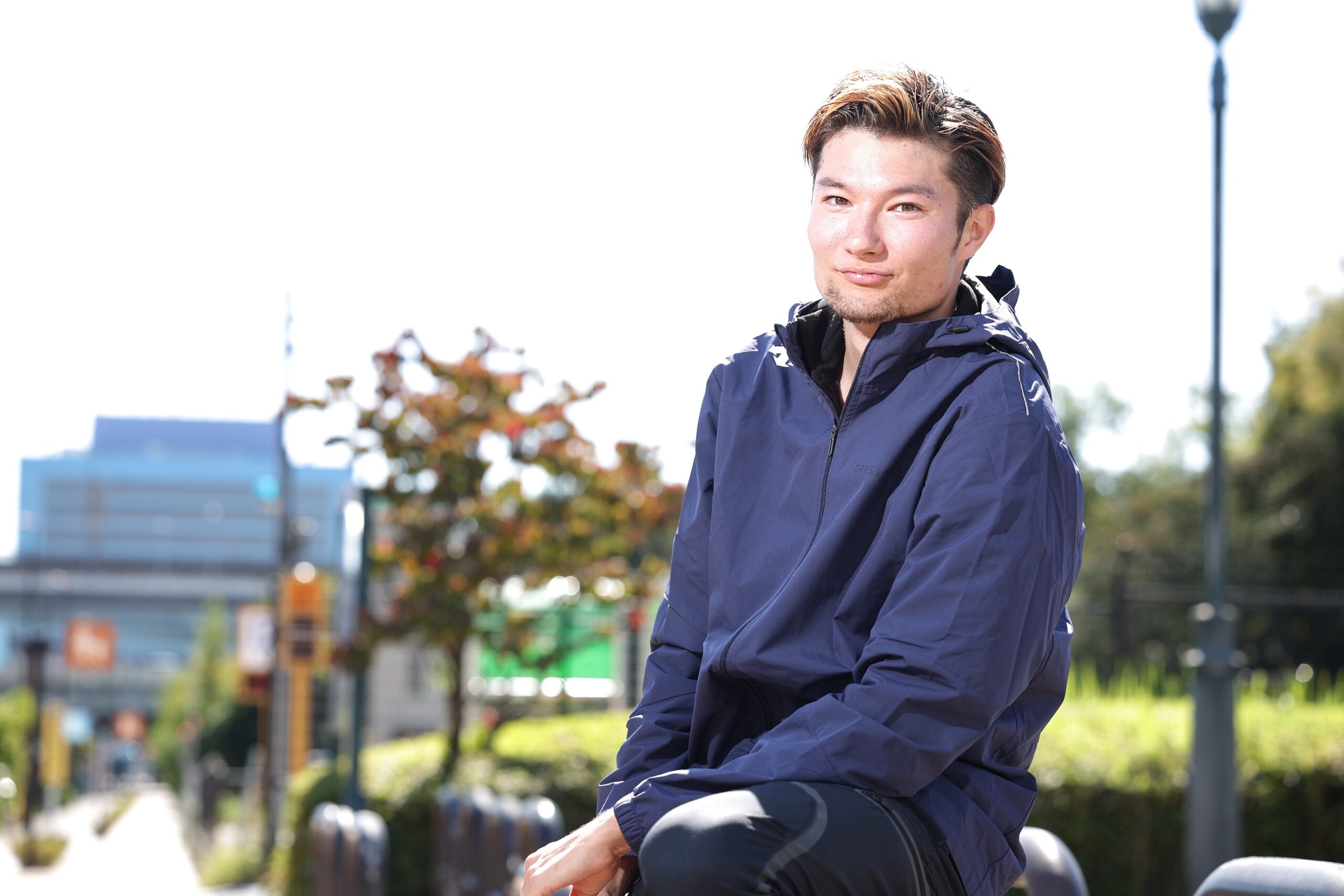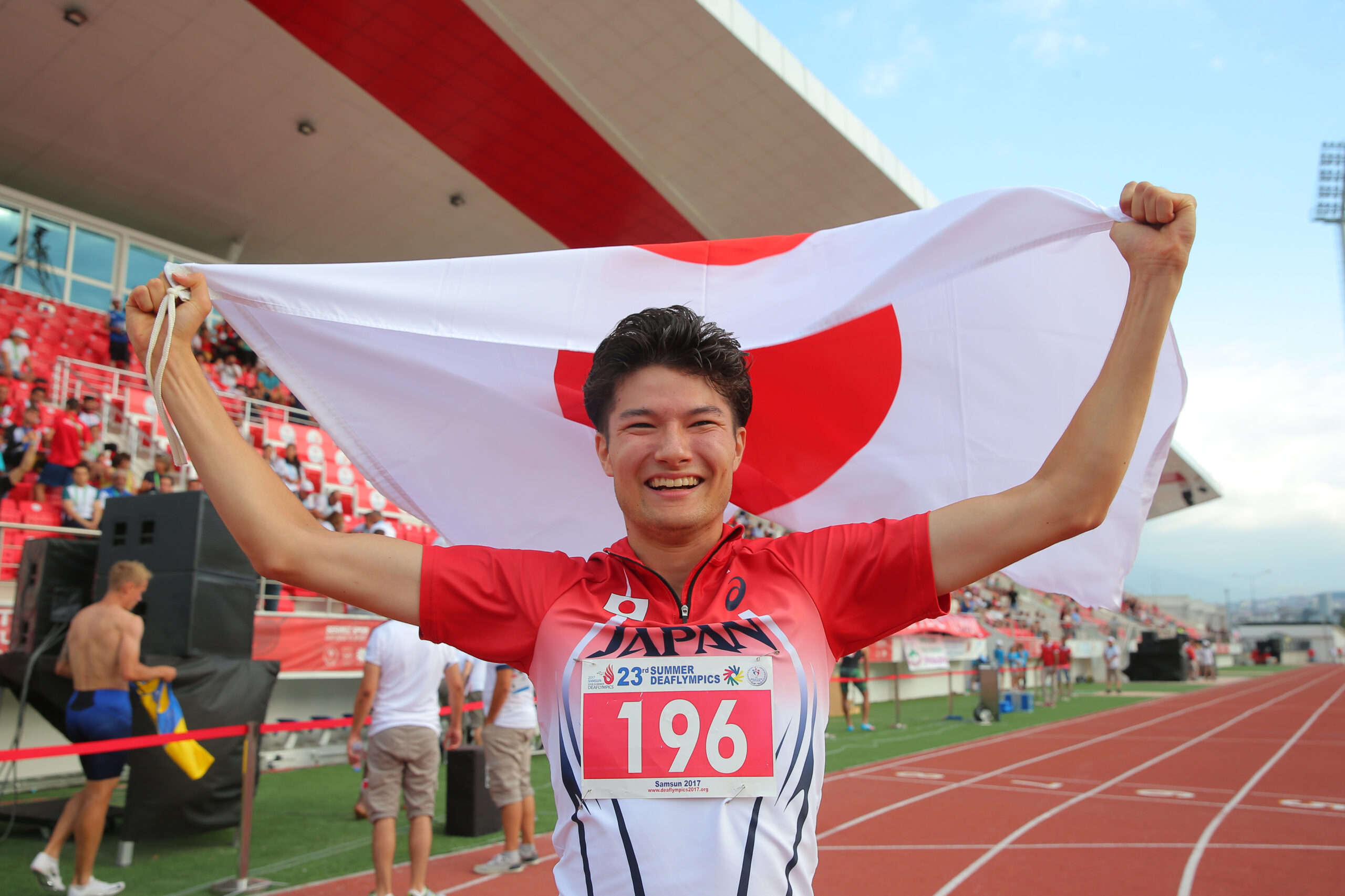 Maki Yamada
Born in Tokyo in 1997. Attended Tokyo Metropolitan Chuo School for the Deaf until high school, and then went to Tokyo Keizai University. After graduation, he joined Fuchigami Fines Co., Ltd. as an athlete employee. He is a leading figure in Deaf Athletics, having won a total of three medals at the Samsung 2017 Deaflympics, where he competed for the first time, including gold in the 200m and 4x100m relay, and silver in the 400m.
God followed me from the United Kingdom.
-What made you fall in love with running?
When I was in the first year of junior high school, the Great East Japan Earthquake occurred. As you can see, I am half-Japanese (laughs). My mother is English and my father is Japanese, but since England is a country that does not have many earthquakes, my mother wanted to return to England out of fear after experiencing the earthquake. This led me to go to England with my mother and live there for a month.
In England, almost every day I would go jogging for about 30 minutes in a nearby park or around Buckingham Palace with my mother's friends. But I have friends in Japan, and I still want to go back to Japan. I begged my mother very hard and somehow we were able to go back to Japan. When I left, there were three of us. Who do you think was the other one? (Laughs)
Immediately after returning to Japan, I began to show remarkable results in physical fitness tests at junior high school. In the second year of junior high school, I took top place, and later I also took first place in a track and field meet. Before I knew it, my legs were faster and running became fun.
-When you returned from England, you suddenly became faster on your feet.
When I came back to Japan from England, I wondered if God might have followed me (laughs). I leave it up to you to decide whether you believe in it or not, but it changed my destiny, and I believe so. I am really glad that I went to England.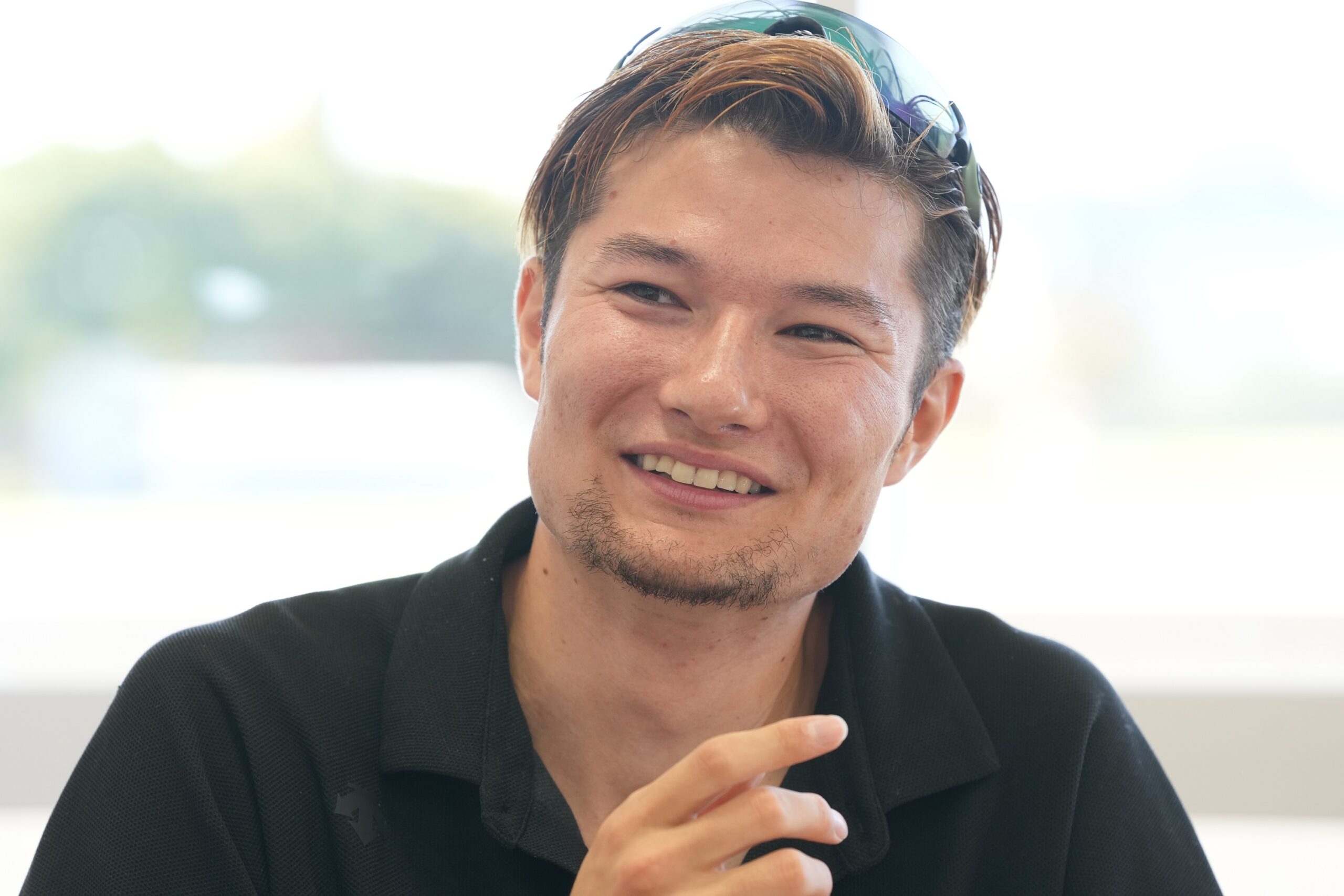 –What is it about running that you find so enjoyable?
There are time record in track and field. To beat your personal best means that all your practice has paid off. It is fun to see that in a tangible form. At first, I thought it would be enough to be ranked first among the Deaf, but when I became the world's best at the Deaflympics and thought about where I could go next, I realized that I would like to compete in the hearing world. That is one of my next goals, along with becoming the world's number one again at the Tokyo 2025 Deaflympics.
Breaking the Belief of Inability to Compete Against Hearing Person
-What did you feel when you actually competed in the competition with hearing person?
At first, I felt an overwhelming difference. Nevertheless, by continuing to work hard, I became able to compete with hearing person. I have a sense that the gap is gradually closing, and I believe that I was able to destroy the belief and concept that "no matter how much I practice, I cannot beat a hearing person." My current dream is to compete in the Japanese Championships before I retire.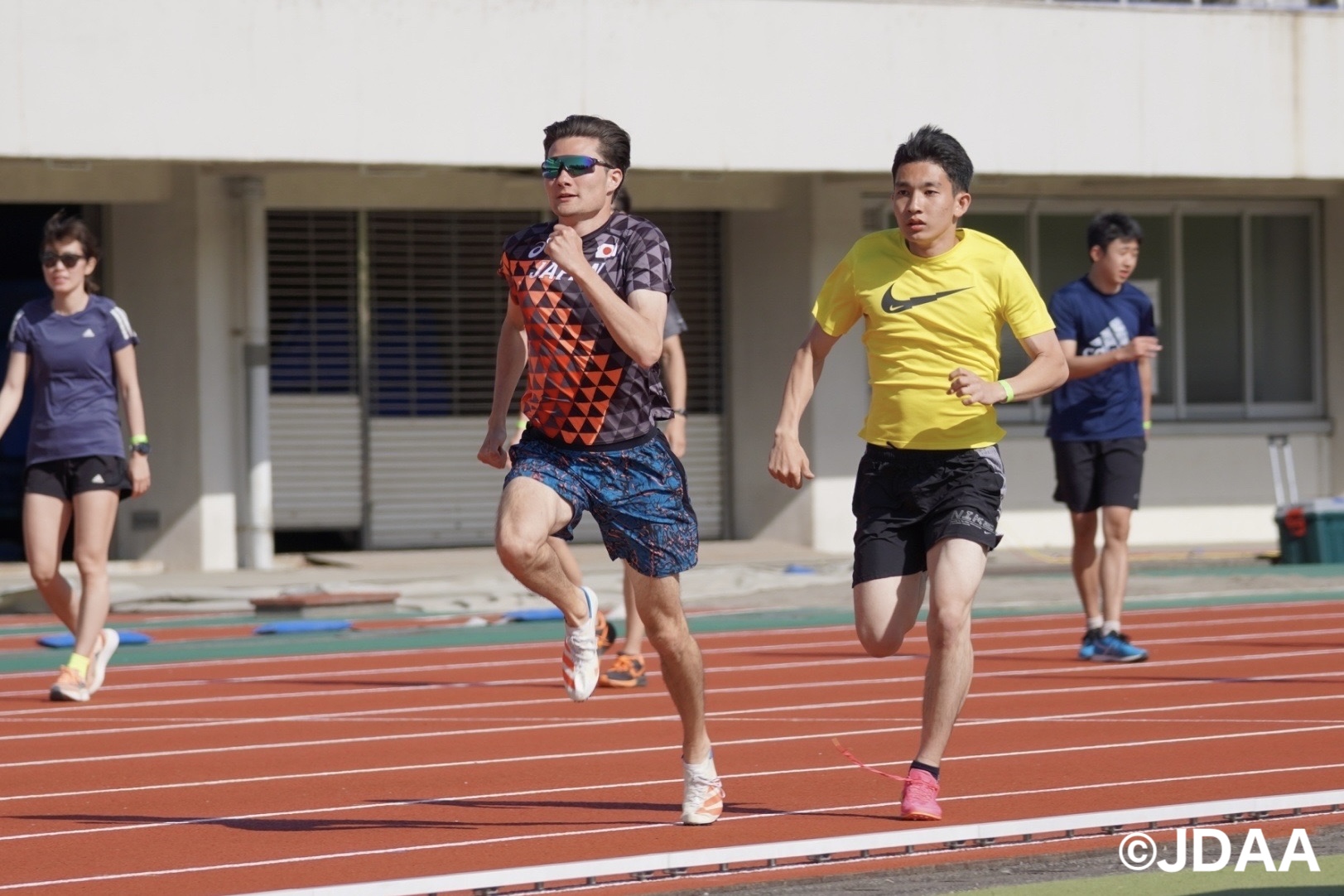 -When was the first time you were reminded of the difference by running with hearing person?
It was when I participated in an intercollegiate race. Tokyo Keizai University, which I attended, was in the second division of the intercollegiate race. At that time, I qualified for the 200m final, but the time I set was not even good enough to qualify for the semi-finals of the first division. It was my second best time, but I felt that the first division was still a long way off.
-Have you changed anything in your practice or lifestyle to close those gaps?
I don't have enough power, so I have changed my diet and lifestyle. Also, since the Corona Disaster, I have started to devote 30 minutes to studying and 30 minutes to reading every day outside of practice. I'm not very good at reading, so it's not easy to accomplish (laughs).
Achieving Verbal Expression Through Guidance
-What are you learning?
I am currently coaching club activities at a school for the deaf, and I am learning about teaching methods and mental training. By teaching the children, it is benefiting me as well.
-Does teaching others help you a lot in your own competitions?
Being able to verbalize is a big advantage. I used to focus on input and never had a chance to output what I was taught by coaches. 2 years ago, when I was offered a coaching job, I had more opportunities to output, and I thought a lot about how to verbalize what I was learning. At first, there were many aspects that I could not communicate well, but after I started teaching, I realized the importance of learning by myself.
-You mean imagine that now that you are able to verbalize, you are also able to think logically about things that used to be instinctive, right?
Yes, that's right. I can now verbalize and explain the mechanisms of the body and how muscles move. For example, let's say you do a thigh lift. Which is easier to move the leg, when you hold the knee with your hand or when you hold the base of the thigh? It is the base of the thigh. It is an image of pulling up the thigh with the hip joint in mind. I understood instinctive, but I could only teach with the words like "this" or "that". It doesn't be explanation, does it? So I really felt the need to verbalize.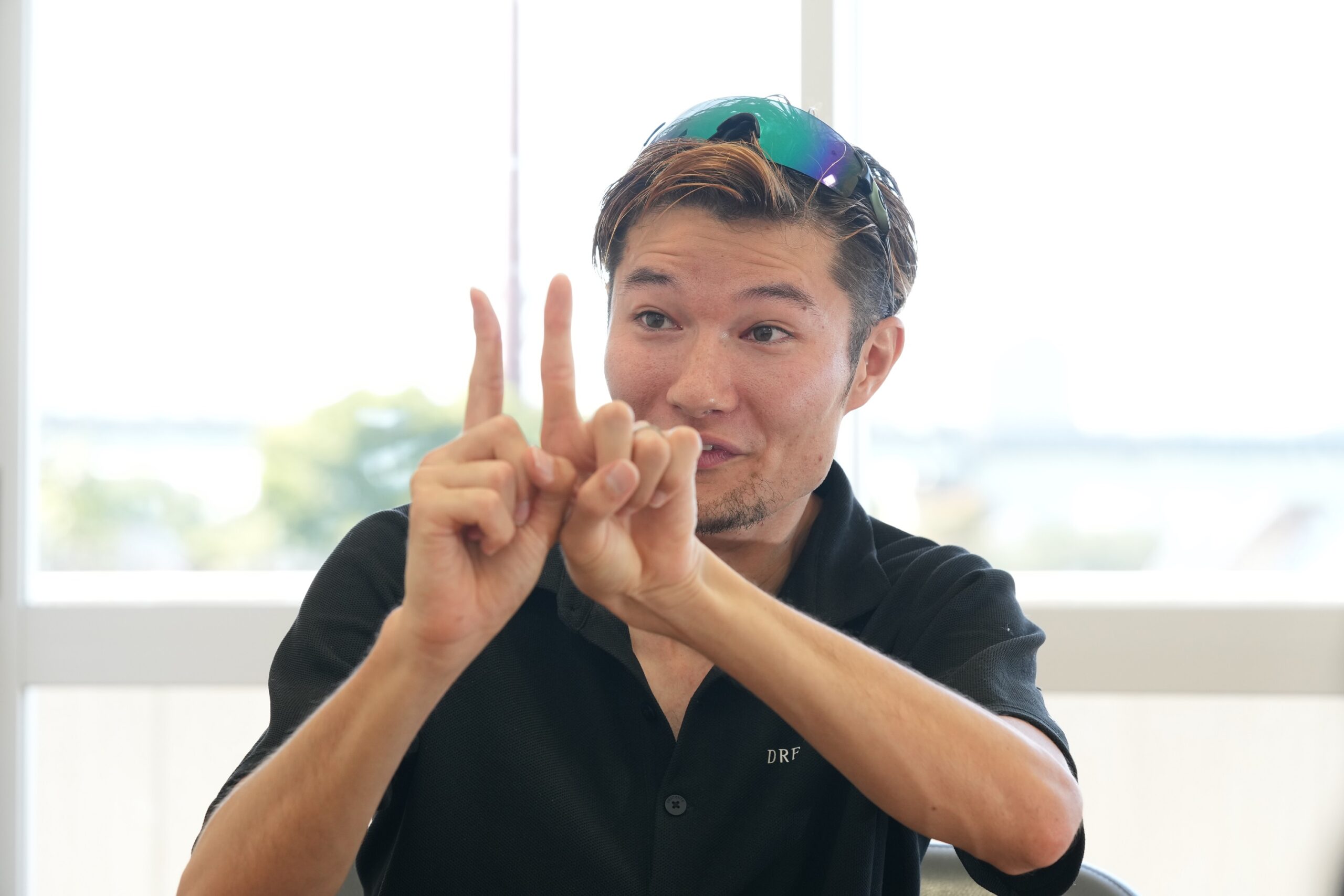 Aspiring to Become a Radiant Self Once Again
-I think it will be the Tokyo 2025 Deaflympics where you will show a different side of yourself, right?
I won two gold medals at the Samsung 2017 Deaflympics and was planning to win two in a row at the Caxias do Sul 2022 Deaflympics. However, due to the COVID-19, I could not make it to the starting line (editor's note: because an infected person was confirmed in the Japanese team). For that reason, I have a strong desire to win in Tokyo. I want to win the gold medal again and to become a brilliant Yamada again. I hope to be able to return the favor to everyone who has helped me so far.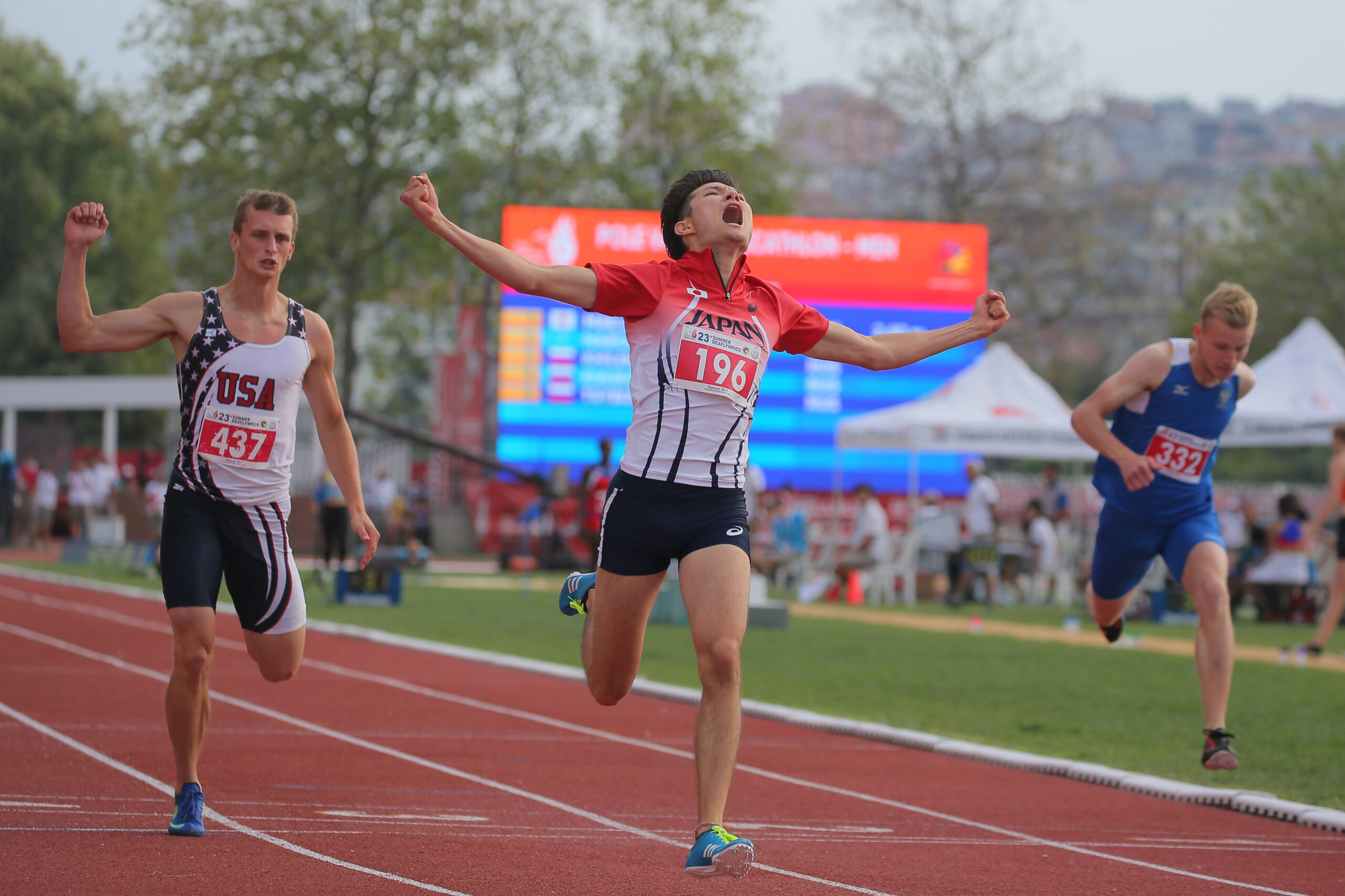 The Significance of Deaf Acting a Role of Hearing Person
-Please tell us about Maki Yamada, not as a player, but as a person. I understand that you are also active as a performer.
I do pantomime and acting. When I was in elementary school, there was a pantomime workshop at my school, and the teacher was the world-famous Shuji Onodera. Pantomime uses neither Japanese nor sign language. Everyone is equal. You can express yourself with your whole body and convey something to the other person. Of course, the way we perceive it is different, but we can give the same message. So it was shocking to me, and it became my purpose in life.
-In May of this year, you also appeared in the play "Playing a Hearing Person: An Introduction".
In TV dramas, hearing person acts the roles of Deaf. However, there have been many comments on social networking sites that it is some uncomfortable from the point of view of the people concerned. By having Deaf acts the role of a hearing person, the purpose was to make the hearing person feel that something is different even though he or she seems to be a hearing person, and to give the hearing person an unspoken, hazy feeling of discomfort.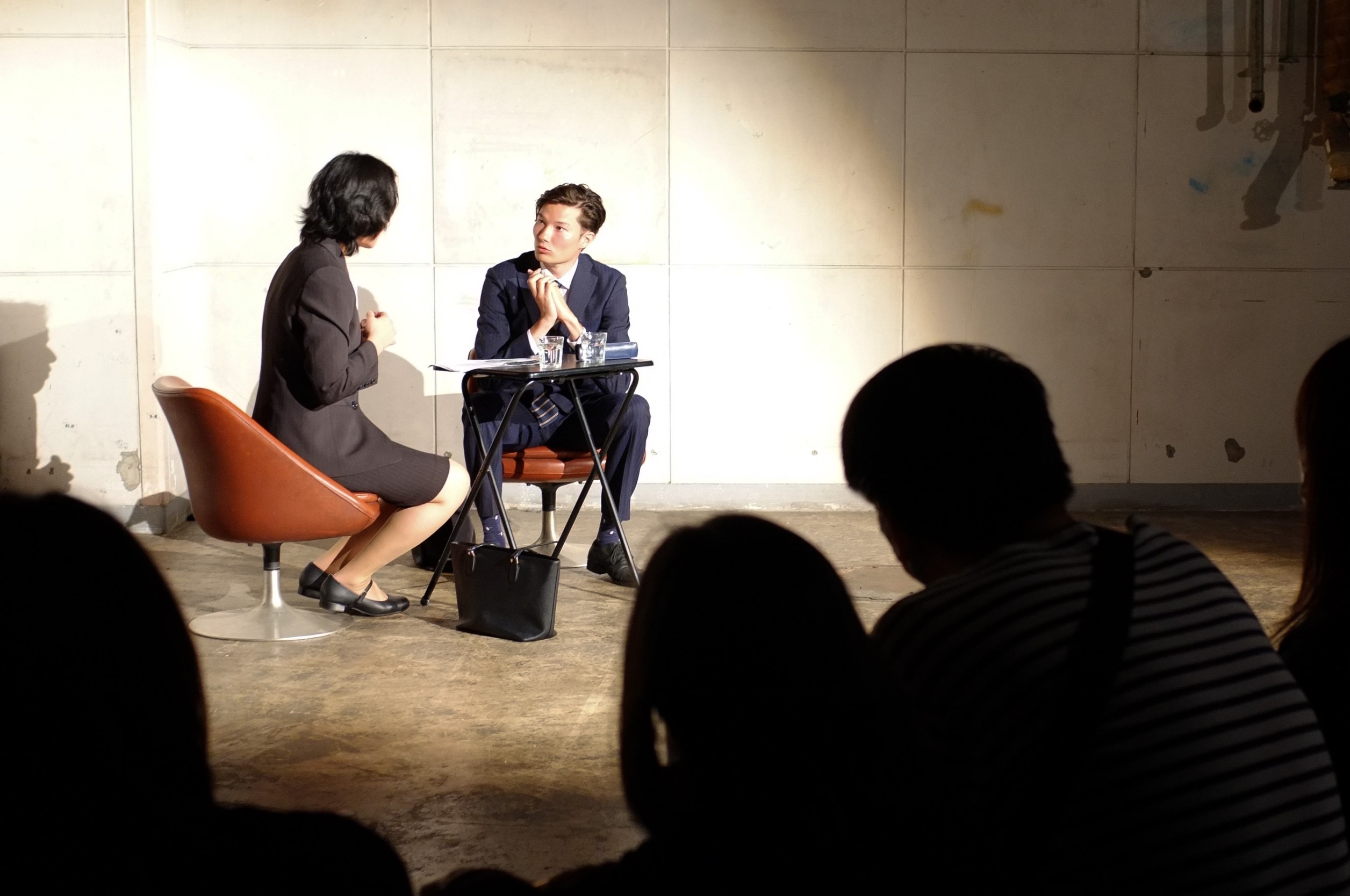 -How was it acting the role of a hearing person?
Of course, it was very difficult! (Bitter laugh) What I learned from acting the role is that a person who can hear does not move his/her facial expression very much. Also, they don't move his/her head. From the point of view of a person who cannot hear, I had thought that hearing person live their daily lives so as not to make noise for not bothering the people around them. However, I was surprised to hear that there are cases in which a person who make sounds seems to be hearing person.
Embracing the Mindset of 'Listening' in Both Theater and Athletics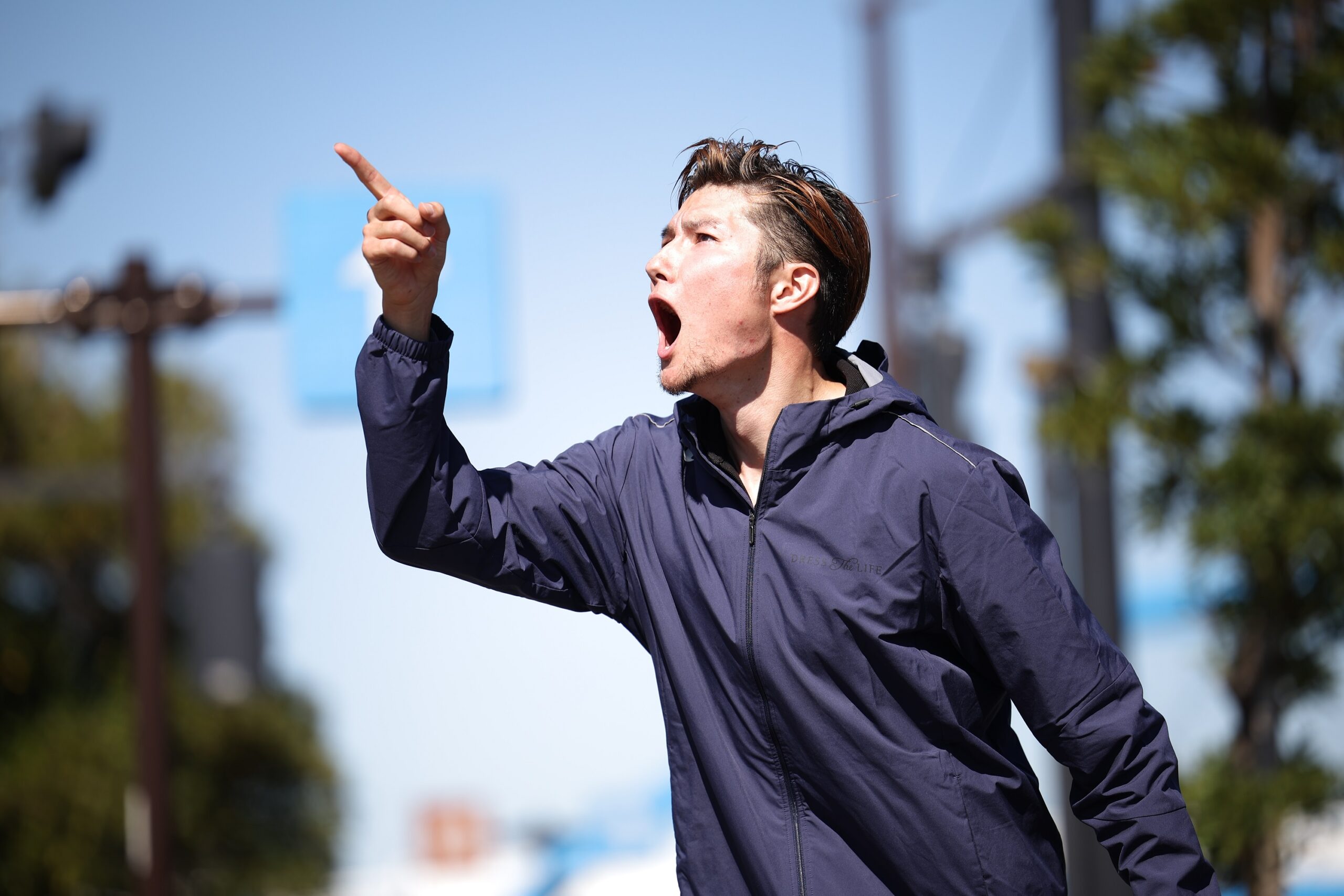 -What was your experience like actually doing the play?
When I acted in the play, I realized that my issue was in my "ability to reproduce". I could not repeat the same performance over and over, and it fell apart each time. Reproducibility is also important in athletics. We can't say like, "I'm in great shape today, so I can run," or "I'm in bad shape today, so I can't run". I think being able to reproduce is what makes you a true professional, and being able to always reproduce your best performance is your strength.
-It is interesting that the issues found in theater are also connected to athletics.
Yes, I think that being able to verbalize the ability to reproduce was also a great achievement for me. In theater, if the acting changes, the message also changes. On stage, you have to give the director's idea. In athletics, too, to perform well, you have to run according to the coach's instructions. It has been 10 years since I started competing. I still have a lot to learn.
-What is important to you in expressing yourself?
There are two different ways to write the kanji for the word "きく(kiku)", even though it has the same sound. One is "聞く(kiku)", it means "to hear". And the other is "聴く(kiku)", it means "to listen". I think "聞く(to hear)" is common for hearing people, but personally, I think "聴く(to listen)" applies to my way of thinking. If you break up each part of the Kanji "聴く(to listen)", it becomes "耳(ear) + 目(eye) + 心(heart) ", right? Not only information that comes in through the ears, but also eye contact, what kind of expression is on the face, and how open the door to the heart is. Are they interested or not? You can know by looking into their eyes. When communicating, I am conscious of trying to understand by making eye contact. In both theater and athletics, I value the attitude of "listening" to the other person.
-Once again, what are your expectations for the Tokyo 2025 Deaflympics?
I hope that the understanding of the Deaf will spread. I don't want everyone to learn sign language. What is important is communication. When a person who cannot hear speaks to you, instead of shying away and saying, "I don't understand sign language," you can use gestures, written communication, or even the memo function on your cell phone. I hope that Japanese people and Japanese society will become more flexible in their communication.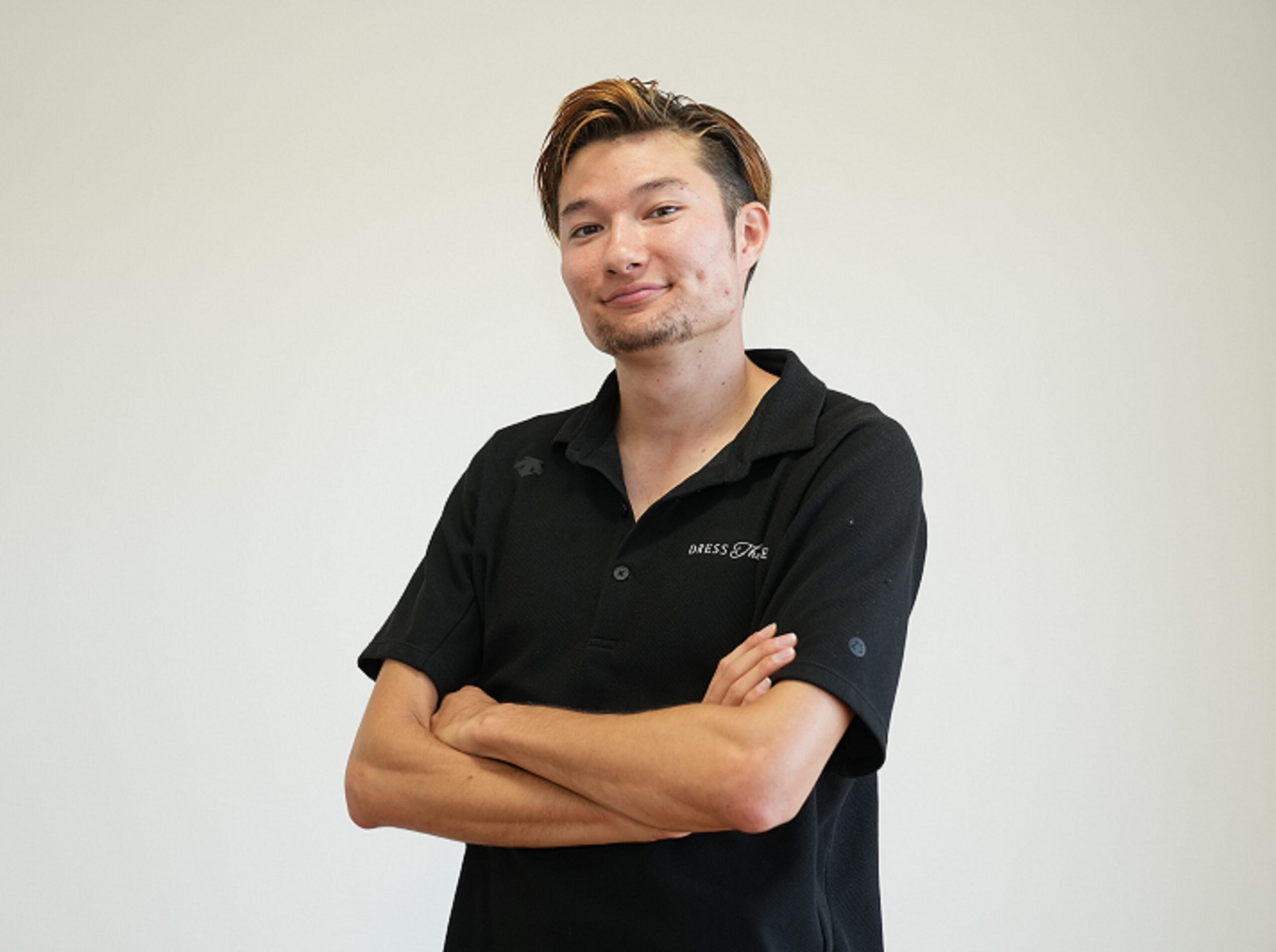 X:@MAKCY0607 (https://twitter.com/MAKCY0607)
Instagram:deafworld400 (https://www.instagram.com/deafworld400/)
text by Moritaka Ohashi
photographs by Kiyoshi Sakamoto